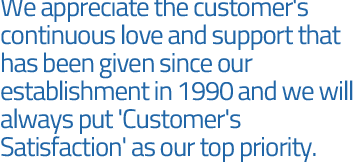 While our business has grown as the best baby & kids wear and golf wear company in Korea, we has been trying to provide the best quality and service to the babies and parents.
All of our brands will relentlessly thrive to meet the customers' expectation with the best
quality and design. And we promise to develop and settle down our business philosophy of
"customer centered management" and sublimate it in the customer service.
Now, we are facing the chance to jump up to be a leading company in the world with
domestic based capability and experience.
In return for our customer's love and support, we will continue to try to advance
as the best fashion group.
We always appreciate the boundless love you've given .
Thank you very much.
Sincerely yours,
Lim, Yong-Bin
Chairman
Happyland F&C / MU S&C / Happyland Logis