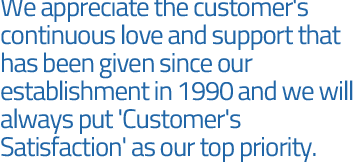 While our business has grown as one of the best fashion group in Korea covering baby and kid wear to women and sports wear, we have been trying to provide high quality and excellent service to our customer.
All of our brands will relentlessly thrive to meet the customer's expectation
with high quality and great design. Furthermore, we promise to develop and provide
'Customer-centered service'.
We hope to expand our business throughout the world soon with our experience
and capability to satisfy customers.
In return for our customer's love and support, we will continue trying to
move forward as the best fashion group.
We always appreciate the boundless love you've given .
Thank you very much.
Sincerely yours,
Lim, Yong-Bin
Chairman
Happyland F&C / MU S&C / Happyland Logis